HOW I WON RUNWAY TO STREET NYC
AN INTERNATIONAL DESIGNER COMPETITION
THE FULL STORY
Hello my peeps ! For those who know me and follow me on SOCIAL media, you know that I am always working on various projects everyday and the month of July 2019 was one of the most intense ones as I was working on an international designer competition hosted by Runway To Streets NYC aka RTS, a New York City-based fashion brand and e-commerce business that also strives to promote up-and-coming designers from all over the globe through fashion related competitions.
RTS hosted this competition for fashion designers and students interested in design around the world, to design some pieces for their ready-to-wear collection called "Timeless" and the application process was quite simple . I will break it down below
THE WHOLE PROCESS BROKEN DOWN
STEP 1: Sketches submission / July 1st
On their website they provided specific details on what kind of clothing they were looking for since they would also provide the fabrics for our final prototypes , which was super helpful because it allowed me to not go all over the place like I often tend to do when I design clothes ( lool, your girl can go crazy sometimes ) . With that being said , I designed 3 pieces for the first step of the competition that I had to post on Instagram and wait for the judges to decide whether I would make it to the semi-final or not ! On July 4th they got back to me and told me I had qualified for the semi-final and I was overjoyed. I had to pick one design among the 3, and either send them a technical pack of my favorite piece or request 6 yards of fabrics from them that I would use to make my prototype! If you know me , you know that I love CHALLENGES: I DECIDED TO DO BOTH THE TECH PACK AND THE PROTOTYPE!!!
The 3 looks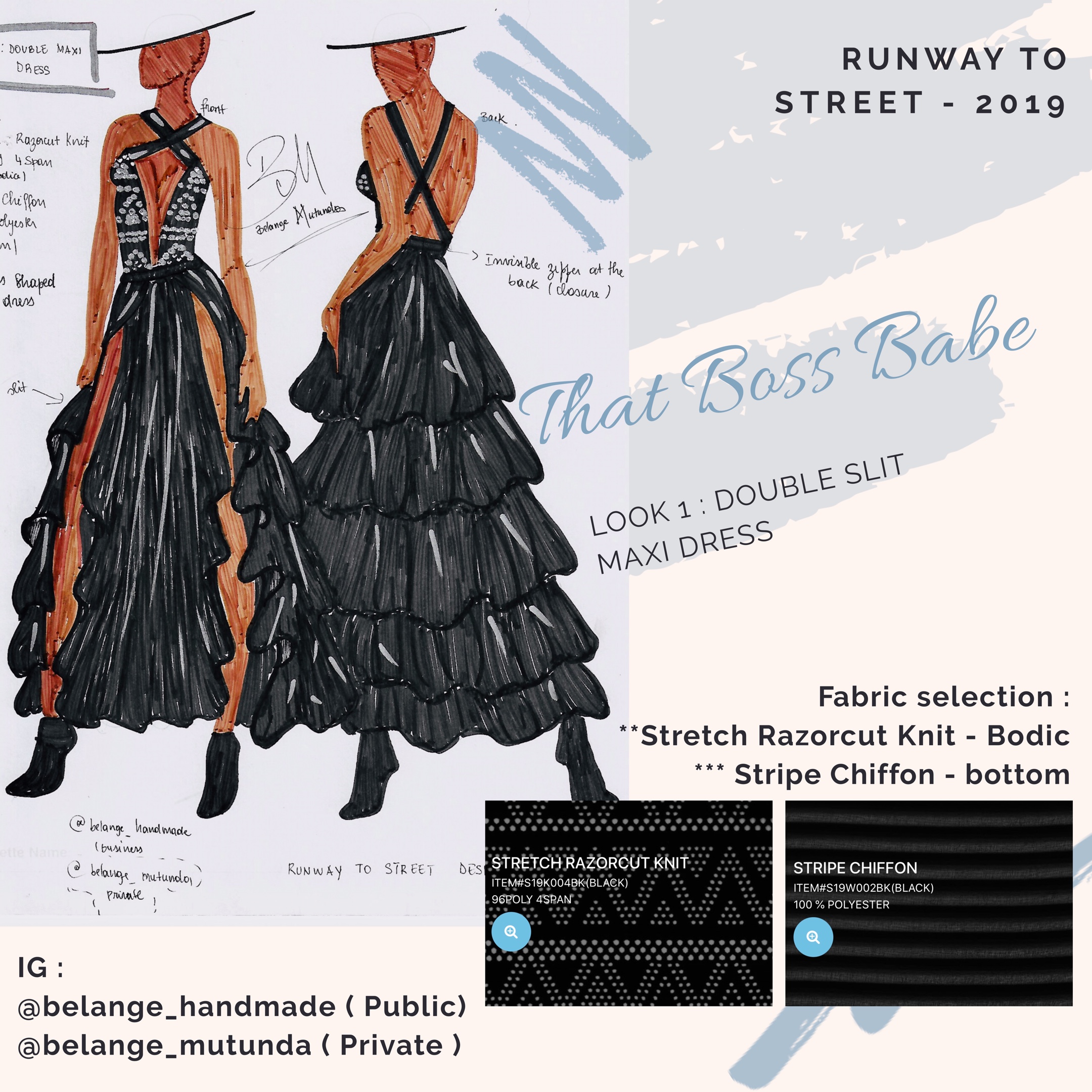 Double Slit Maxi Dress for That Boss Babe 💃🏽🌟🔥💥
Fabric selection : Stretch Razorcut Knit for the bodice & Stripe Chiffon for the bottom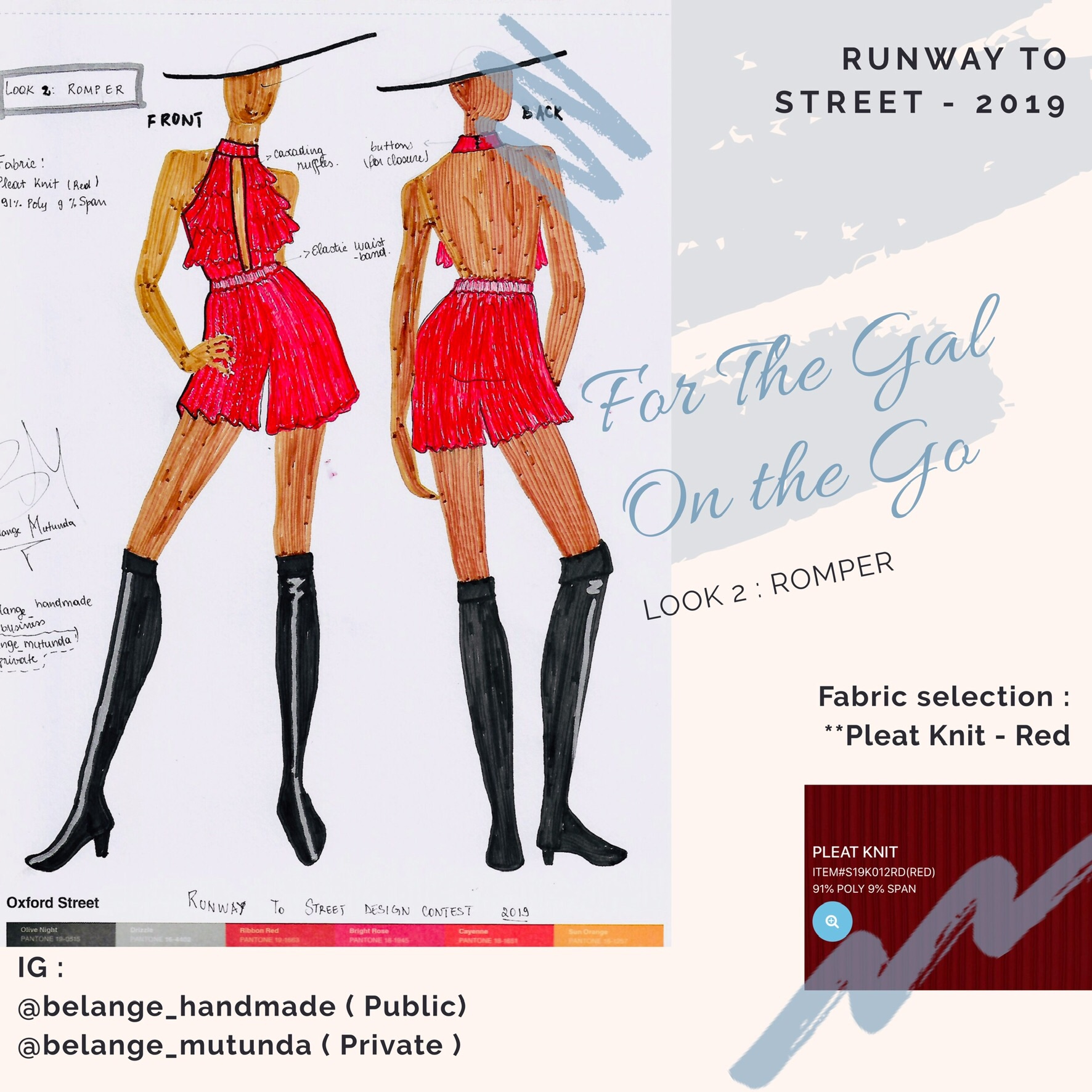 Romper For That Gal on the Go 🏃🏽‍♀️👯‍♀️🔥⭐️
Fabric Selection : Red Pleat Knit .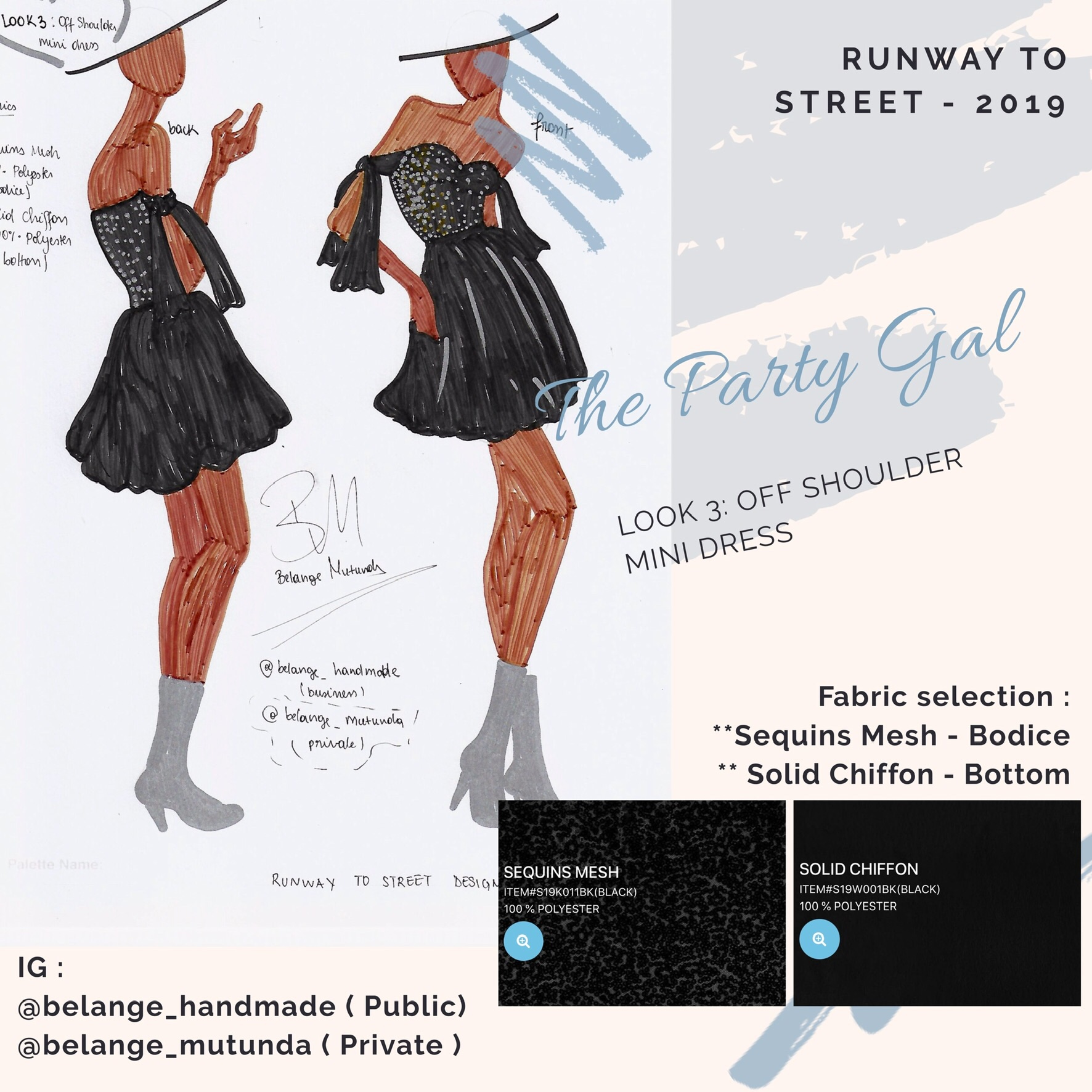 Off Shoulder Mini Dress For That Party Gal 🍾🥂💅🏽💁🏽‍♀️
Fabric selection : Sequins Mesh for the bodice & Solid Chiffon for the bottom
STEP 2 : Technical Packet and Prototype Submission/ Semi-final / July 16th
After submitting my first 3 sketches and seeing what my competitors had submitted, I was very intimidated because my sketches were not that good and my pieces did not look as good to be honest . To make biggest surprise, I MADE IT !
Like I mentioned above , I chose to to both the tech pack and the prototype because I love challenging myself. It took me about 4 days to complete my tech pack because I draw all my tech flats by hand , scan them , and brush them up on Photoshop. In addition, the tech pack not only included my tech flats , but also a brief cost sheet, and all the trims and findings that would go to the construction of my garment! I also waited about 10 days to receive my fabrics from RTS so I could make my prototype! I had only 3 days to complete my prototype, which I did . I had everything done by Sunday July 14th and on Tuesday the 16th I flew to New York City to drop of my design and wait for the final decision from the judges, which would determine whether I would win or not . I spent about 3 weeks in NYC working on several other projects while waiting for the RTS decision.
The Final Prototype
Here is a look of the final prototype modeled by one of my best friends Daniela Vazquez, and photographed by Hunkz Imagez by Peter Kyosaba ,another good friend of mine.
My Tech Pack
STEP 3 : THE FINAL JUDGMENT!!
On July 31, 2019 I finally got the email confirmation from RTS . I was Announced as one of the winners for the non-student competition and I jumped all over my apartment lol because I was recognized as a New York Designer, how cool is that ? In addition to that there is a $5000.00 prize for each winner and my design will be professionally manufactured and made to sale to the public worldwide for the RTS 2019 Timeless Collection . The perks don't stop there , as I winner I am entitled to receive 1% to 3 % profit share each time my design will be sold on their e-commerce site , and all the credits for the design will be given to me .
Check the list of all winners here https://www.runwaytostreet.nyc/winners/
FINAL THOUGHTS
This experience was amazing for me because I never thought I could ever win a big competition like that and it made me understand that I am capable of accomplishing big projects in a short period of time. If you're a designer , or if you simply work on multiple creative projects that require a lot of thinking and hands-on work , you know how hard it can be to make something happen in less than 3 weeks , which is how long I had to draw the sketches, create my technical packet , make my physical prototype, and fly out to NYC to drop off my garment !